Jasper Saves Fish at Frantz Lake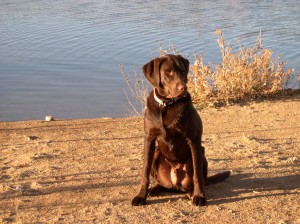 Twas the day after Thanksgiving and all was bright and beautiful. We walked the banks of our little Frantz Lake. The water was calm and the sun shining bright. A little red and white bobber was bobbing in the water. With a closer look I did spy a fish beneath the bobber a foot and half below. No fisherman is sight no pole attached. The fish that got away but is not free. Caught in the web of a fisherman's scheme.
I had two choices. Take off my shoes and wade out 8 feet in the icy cold water of November. Or ask Jasper my 2 year old lab to fetch the bobber. I decided on the latter, hoping sweet Jasper would not get caught up on the hook. I found a small pebble and threw it at the bobber with a command "Jasper Fetch". Into the water he goes, right to the bobber. He retrieves the bobber, fish and lots of line attached, all caught up in a tree branch. "Good boy, Good Boy" I tell him. The fish is flopping about and very excited and so is Jasper "Jasper Leave It" Jasper steps back as I release the fish. We watch as it swims away, free at last. Happy ending indeed.
This story allows us to look at how we get caught up in the past. We may escape a bad situation. But does it haunt us after the fact. Leaving us unable to step forward with life. There is help out there. A friend, teacher, pet or stranger can be a guide to releasing the daunting affects of the past. Open to hope and find the help you need. Or find someone you can help. I wake up in the morning and ask how I can extend love today. I always find someway, even if it's with a fish.
Happy Holidays Everyone.
Mary